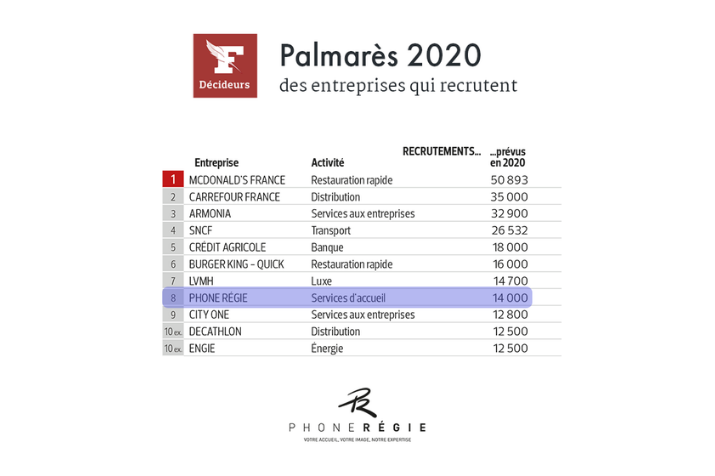 Phone Régie 8th in the 2020 Figaro Awards!
Phone Régie
is on the podium of companies that recruit in the ranking published by the Figaro Décideurs 
🥉.
On March 2nd, in its edition of Le Figaro Décideurs, Le Figaro unveiled the results of its 2020 survey of recruiting companies. 250 Groups and SMEs were questioned, indicating a total forecast of more than 465, 104 hires for 2020.
With more than 14,000 recruitments planned for the year 2020, Phone Régie ranks 8th among the employers who recruit the most.
Among the most sought-after professions today, Phone Régie recruits today mainly on permanent contracts (part-time/full-time) for its various clients: corporate hosts & hostesses, multi-site hosts & hostesses, telephone advisers, switchboard operators, supervisors and team leaders.
Click here to consult the job offers currently offered by Phone Régie.
Phone Régie, a brand of the Armonia group, is a specialist in corporate reception. Our activities are divided into 3 areas of expertise: visitors reception & telephone support (receptionist), concierge & employee well-being, customer relations centre (teleconsulting).