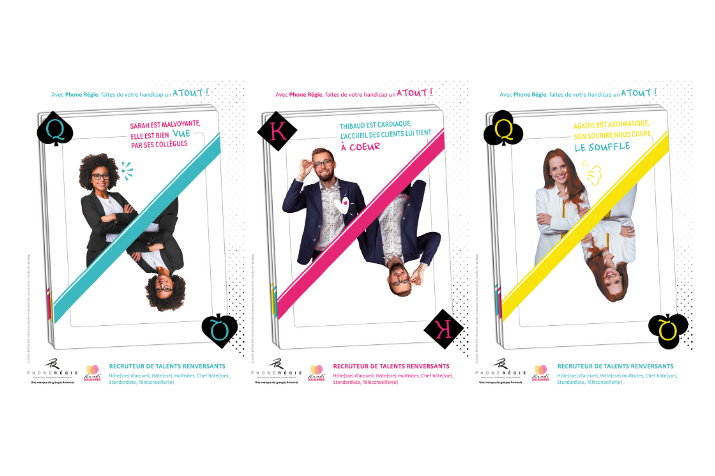 Phone Regie, amazing talent recruiter!
Phone Regie and its Mission Handisolidaires are proud to present their new communication campaign in the framework of the new 2019/2023 disability agreement. 
Disability is approached in an original and positive way. 
The objective is to enhance the image of disability as a "talent revealer" while reinforcing our "handisolidaires" culture and our employer brand. 
Having chosen the theme of card games, Phone Regie is launching a striking communication on disability that combines pedagogy and games. 
"With Phone Regie, make your handicap an asset", PR reveals the handicap by valuing candidates and employees beyond it. 
Through puns, the handicaps are turned in a positive way and adapted to the reception professions:
"Thibaud has a heart condition, he cares about welcoming customers".
"Agathe is asthmatic, her smile takes our breath away".
"Sarah is visually impaired, she is well seen by her colleagues".
Assets, words & mood, it's all there! 
Phone Régie, a brand of the Armonia group, is a specialist in corporate reception. Our activities are divided into 3 areas of expertise: visitors reception & telephone support (receptionist), concierge & employee well-being, customer relations centre (teleconsulting).