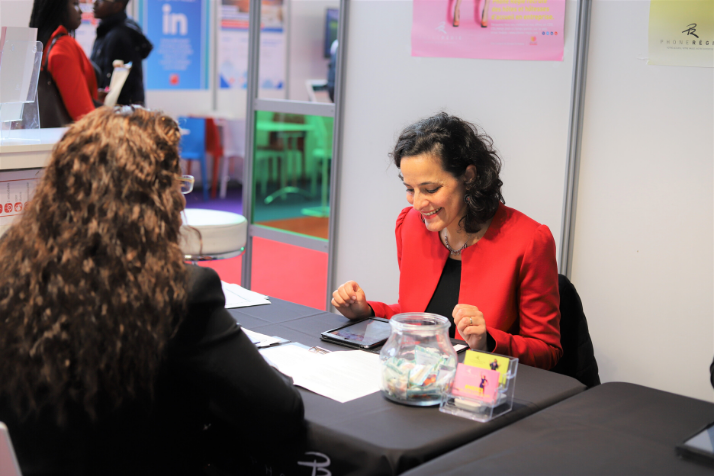 Phone Regie and its participation in the PFJ!
On October 3rd & 4th, Phone Regie was present at the Paris For Job, one of the largest generalist trade shows in France. This major and unmissable employment event is an opportunity for thousands of people to find work. 
During this forum, Sarah, Sandra, Jennifer & Hadjer, Phone Regie's recruitment managers met more than 200 people and were able to exchange with them on their expectations, the profiles they are looking for as well as the possibilities of evolution. 
Participating in this fair is also an opportunity for Phone Regie to promote the hospitality business, rejuvenate and refresh the image of the profession and highlight the springboard it represents for employees. And as proof, today, 25% of the employees at the head office and in the regional branches are from internal mobility.
"To be a host or hostess at Phone Regie is not just a job, it is to be the image ambassador of one of our customers through a versatile position, essential to the smooth running of a company's head office: a job that requires a real know-how to which we bring the know-how that allows us to master all the processes and missions inherent to the position", says Houda Khalil-Mimouni, Communication, Marketing & Sourcing Manager at Phone Regie. 
Phone Régie, a brand of the Armonia group, is a specialist in corporate reception. Our activities are divided into 3 areas of expertise: visitors reception & telephone support (receptionist), concierge & employee well-being, customer relations centre (teleconsulting).